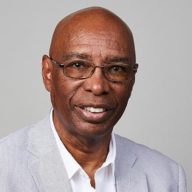 Jabari Mahiri
Jabari is the Faculty Director for the Bay Area Writing Project and a professor in the Graduate School of Education at UC Berkeley. He is the inaugural holder of the William and Mary Jane Brinton Family Chair in Urban Teaching and Faculty Director of the Multicultural Urban Secondary English M.A. and Credential Program.
Before coming to Berkeley, he helped found and chaired the inaugural board of directors of the New Concept Development Center, an independent school in Chicago that has been in existence for more than 35 years. Dr. Mahiri has extensive experience as an English teacher, is the author or editor of six books, and recipient of many awards and honors including the UC Berkeley's Chancellor's Award for Advancing Institutional Excellence in 2007.
He received his Ph.D. in English (Language, Literacy, and Rhetoric) from University of Illinois at Chicago, an M.A. in Education from Northeastern Illinois University, and his undergraduate degree in English Literature (with Honors) from University of Illinois at Chicago, where he also received a Secondary English Credential.