Kim Jaxon, director of the Northern California Writing Project, shares this post (originally written for the Connected Learning Alliance) about how her Writing Project site has experimented with using digital spaces to provide greater access to professional development for rural educators.
Many educators in our DML network will be familiar with the National Writing Project (NWP), a 45-year-old professional development network, whose focus is on improving the teaching of writing across all grade levels. With close to 200 Writing Project sites spread throughout the U.S., the NWP network is within reach of thousands and thousand of teachers. But even with the reach and impact the network has on teachers and students, the NWP still seeks to improve access to their professional development communities. One of the challenges, particularly in rural areas, has been the difficulty for teachers to participate in a local site's Summer Institute, which traditionally means coming to a university campus for 2-4 weeks in face-to-face gatherings. For some teachers, this means leaving families or driving up to 6 hours per day to reach the "local" site. For the past couple of years, the NWP has been working to increase access through "new pathways to leadership."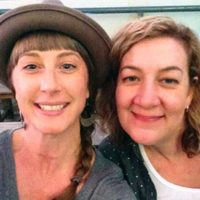 The foundation of the NWP is "teachers-teaching-teachers," a term used by the network to indicate the value they place on teacher practice. Historically, teachers who participate in the NWP start with a four to five week invitational Summer Institute where they present demonstrations of teaching practice, read current research in the field of writing studies, and write in personal and professional genres. After participating in the Summer Institute, teachers become teacher-consultants, "TCs," in the NWP; many go on to lead in-service and continuity programs in their area schools. The NWP does not advocate for any particular theory of learning or model of teaching writing but has focused on teachers uncovering "best practices" for teaching; this work always includes elements of teacher research and reflective practice.
Our local site, the Northern California Writing Project, (founded in 1977) was one of the sites selected by the national network to redesign a Summer Institute with an emphasis on new paths to participation. As part of the design, for the past two summers, the NCWP has offered a "hybrid" Summer Institute, using digital platforms as a way to maintain community and increase access to the community of educators. The redesign was led by Amanda Von Kleist and Lindsay Nemec, co-directors of the Summer Institute for the NCWP. Below is an interview with Amanda, who has taught special education in Hamilton City, CA for over 20 years and has been involved with the NCWP since 2004. She is a gifted educator who thinks deeply about her students and their access to education. It is no surprise that she brings this commitment to equity and access to her work with teachers as well.

What lead to the changes in your Summer Institute?
We had an opportunity to participate in some grant work through the National Writing Project called Building New Pathways to Leadership. This grant asked us to reflect on the barriers that impede access to participation and ultimately leadership in our Writing Project site. The Summer Institute is the foundational work of any writing project site. It introduces teachers to the beliefs and social practices that define the Writing Project. Teachers in the Summer Institute read academic texts, write about their teaching, talk and think together. Each teacher makes an inquiry presentation in which they examine and share a teaching practice around literacy. These presentations are interactive with teachers participating in the same activities as students would.
Historically, our Summer Institute takes place over a period of three weeks on the Chico State campus. Because our site has a very large service area (approximately the size of Austria), some participants have to drive six hours or more. Our site provides housing as needed at local motels, but that can be expensive, and it is difficult for participants to be away from home for so long. We wanted to increase access by moving the bulk of our time to a digital space.
What concerns did you have when you moved from face-to-face to virtual platforms?
We had two major concerns as we moved to a virtual platform. We were not sure what the teacher presentations would look like. How would they be interactive? Would we be able to work and talk in small groups? Would the technology be too daunting? Our other major concern was that our interactions would be stilted and clunky. I had been to meetings on zoom and google hangouts in the past and the interactions were awkward to say the least. The thing about Summer Institute is that it is a social community. Teachers bond as they work hard together, share experiences, lament failures, celebrate successes and reveal the questions that drive their practice. This building of community is the magic of the Summer Institute. Losing that was our greatest concern.
How did you maintain a community in the new structure?
We decided that our model would be a hybrid of time spent face to face in a physical place and time spent in a virtual place. About a month before SI started, we held a face to face orientation, followed up a week later by an online orientation part 2 (to introduce the digital tools). Our Summer Institute kicked off with a three day intensive camp on the Chico State campus. This face to face time turned out to be crucial in building community. Teachers needed that time to get to know one another, to trust one another. When teachers honestly examine their teaching practice and beliefs, when they share stories about their students, it is personal. We wanted to make sure that the teachers had enough time working with each other in person to make a good connection with each other. When we moved to the digital space, there were a few different things that kept that community going: we did a lot of work in small groups using collaborative google docs and breakout rooms on zoom. We also used the chat feature on zoom and twitter for backchanneling ideas and resources that added to the discussions. We created our own hashtag on twitter, and used it to tweet out not only responses and ideas, but to share drawings, mindmaps and even pictures of the stops we made on our virtual writing marathon. The most powerful way we built community in the digital space was through the teacher presentations. The power of purpose and audience drove the teachers to develop rich and thoughtful presentations, and the shared awareness of the rigor involved in the process resulted in professional respect and admiration. After two weeks together online, we met for a two day colloquium, and we were thrilled to all be in the same room again.
What advice would you give to other educators who want to structure PD using digital tools and platforms?
I would advise any educators who are considering digital platforms for PD to go for it. Do a little research, a little experimentation. Think about ways to make the work collaborative and interactive. We found that breakout rooms were far better for discussions than whole group, and that Twitter and the chat feature in zoom let the conversation continue even when our mute buttons were activated. I think there is great potential for educators to network and collaborate in virtual spaces. For our Summer Institute, I am not ready to yet forgo getting started with a couple of days of face to face time to build trust and community, but I might just need think more about it.