When you ask George Haley about Bad Axe, Michigan, he has stories to tell.
About its location in the Thumb of the Michigan mitten. About his time at Bad Axe High School, where he was editor of the school newspaper. And about how the town got its unusual name (let's just say it involves a broken hatchet and some creative road surveyors).
If asked, he will also tell the story of how he came to make a $15,000 donation to "bring the Saginaw Bay Writing Project to Bad Axe" so that teachers in Huron County, MI could experience a Writing Project Summer Institute in 2017.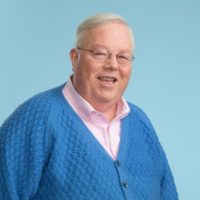 Haley, who is a member of the NWP Board of Directors, grew up in Bad Axe and went to the University of Michigan. After studying law at Harvard, he moved to California, where he has lived since. He joined the NWP Board after hearing NWP's former executive director, Richard Sterling, talk with excitement about the Writing Project. Haley has been a passionate supporter of NWP ever since.
But Michigan has remained an important place for him, so much so that, after being named a distinguished alumnus in 2010, he endowed a scholarship at Michigan's College of Engineering.
When Bad Axe also named him a distinguished alumnus in 2015, he said, with typical wit, "it was a much greater honor, because they didn't expect me to give any money!"
But in fact he did make a gift. On the Bad Axe High School website, Haley found emails for the school's English teachers. His message to them said, in effect, "I'm not sure if you've heard of the National Writing Project, but I'd like to fund a Writing Project summer institute for Bad Axe teachers."
It turned out that one of Bad Axe's teachers, Stephanie Anderson, was a Writing Project teacher-leader at Saginaw Bay Writing Project (SBWP). Anderson helped Haley connect to SBWP, and plans were set in motion to host a summer institute at Bad Axe High School. The institute allowed teachers from all over Huron County to experience the Writing Project's signature program without having to make the 75-minute drive to Saginaw.
When asked why he chose to support Bad Axe, Haley replied, "One of the things I'm interested in is helping out rural schools, because I realize they're suffering from a lot of the same problems as poor urban communities. There's one school I'd like to help out more than any other, and that's Bad Axe High School."
Thankfully, Haley's generous gift impacted not just Bad Axe, but teachers throughout Huron County.