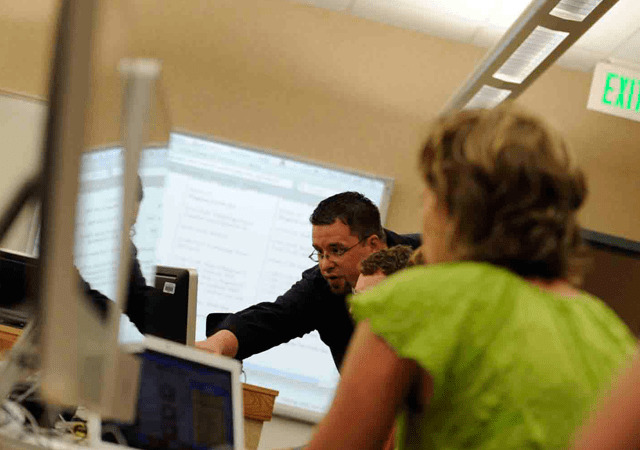 "Through the open Web, I rediscovered my passion for democratic education, exploration and wonder, the love of a good poem, and the right people to share it with," Bud Hunt reflects. "What was new to me then, but is habit now, was the idea that somewhere out there was someone who could teach me something I wanted to know. The challenge was that I had to find them."
A teacher-leader with the CSU Writing Project, based at Colorado State University in Ft. Collins, Hunt has been working to build connections between and among educators and technologists with a common interest in exploring learning-focused uses of technology.
Many of those connections go back to his early explorations of digital writing which he made public through his blog, "Bud the Teacher." This blog helped create a national conversation about the affordances of digital tools for teaching and learning writing, drawing from his experiences as an instructional technologist with the St. Vrain Valley School District. Packed with posts and podcasts, the site reflects deep thinking and lively dialogue about what sparks student learning.
Hunt has since become prominent in online conversations across a variety of platforms, including local, face-to-face work through multi-year inquiry groups on using educational technology.
In September 2013, Hunt conducted a congressional briefing about reimagining learning in the digital age, and later in November 2013, Hunt was among 10 educators who received the White House Champion of Change award in the ConnectEd category, awarded for creative use of technology to enhance learning for students.
But his initial interest in the challenge of finding and connecting with people, knowledge, and opportunities to support learning eventually led him an even broader venue: the public library system.
Still in Colorado, Hunt serves as IT and Technical Services Manager for the Clearview Library District where he draws on his NWP experience to lead a highly committed team of librarians and support staff in their work to be of service to their community through access to information tools, high quality resources and programming.