In Kansas City, Missouri, hundreds of elementary students are bridging racial and socioeconomic divides with writing, poetry, and art, thanks to the Greater Kansas City Writing Project's (GKCWP) KC Kids Unite program.
Through the program, now in its fifth year, 400 third- through fifth-grade students from around the area read common books, and use them as a launching point for writing personal stories and creating art celebrating community diversity.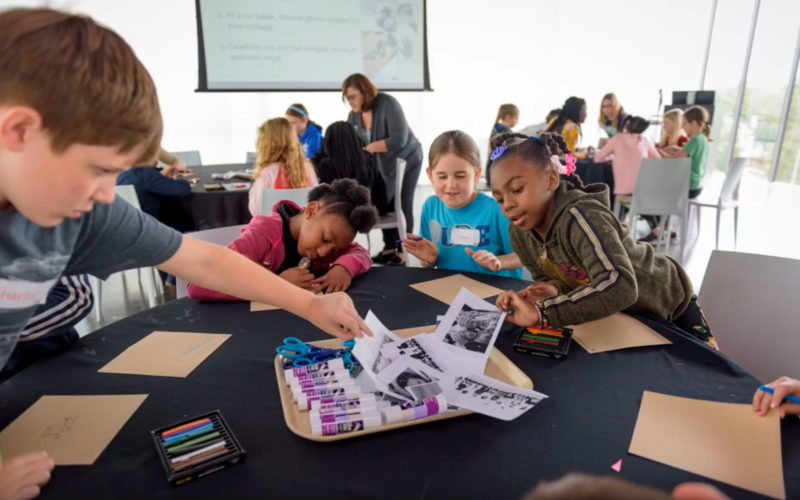 "What we're trying to do is show how writing can break down divides rather than enforce them," says Katie Kline, director of the GKCWP. "Kansas City schools are pretty racially monolithic. We try to pair a classroom of mostly white kids with mostly nonwhite kids. What the students have to say is beautiful."
Participants develop a "pen pal" relationship with students from other schools, digitally sharing their writing and providing each other feedback. Children are at first "timid," Kline says. "They're nervous, and they don't know what to share, but it's through that that they've made themselves a little bit vulnerable. As the project goes on, they're willing to put themselves out there more and more."
"The kids have really gotten to know each other," she adds. "The students come in prepared to be pretty vulnerable with each other."
KC Kids Unite, like so many NWP programs, works to build connections not only between students, but also between teachers divided by subject areas and grade levels. It's one of many Writing Project programs in which teachers collaborate to share knowledge and develop curriculum that makes them better instructors to all students.
Teacher-consultant Melanie Fuemmeler initially conceived the project after attending the GKCWP's summer institute and noticing an important opportunity.
"Most of our programs have a strong social justice component and are centered on trying to address Kansas City's racial inequities, past and present," says Kline. "But there was none of that going on at the elementary level. Melanie reached out to the National Writing Project and said, 'What can we do? What if I start to develop a curriculum?'

"We put our heads together and figured out a way that the Writing Project could help make this happen."
Five years on, KC Kids Unite has brought students together with books such as Jacqueline Woodson's The Day You Begin, Wendy Ewald's The Best Part of Me, and George Ella Lyon's Where I'm From, all chosen to prompt children to think deeply about the relationships, experiences, interests, and hopes that make them who they are.

The program has also spurred a partnership with Kansas City's prestigious Nelson-Atkins Museum of Art, which showcases the art students create as part of the program, bringing the fruits of students' collaboration and connection to the community as a whole.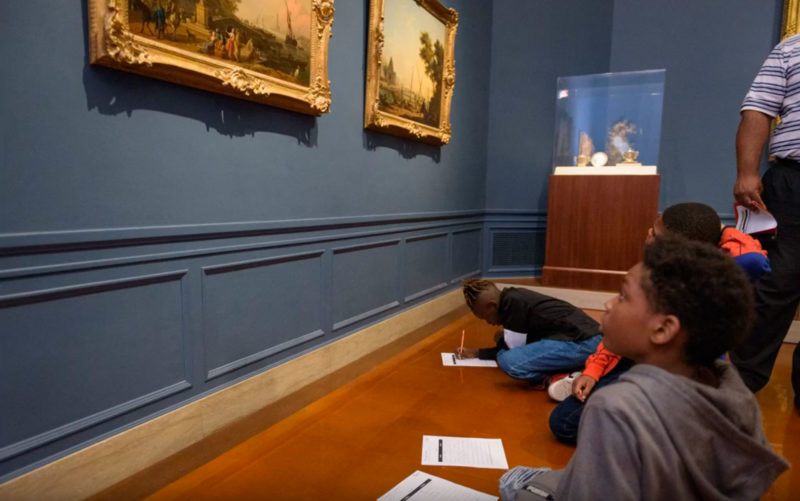 Finally, says Kline, having an authentic audience is a powerful motivator for students. "The kids really care about this other audience in a way they don't often feel about school writing assignments," she says. "They're invested in the finished product."
Photos: ©2019 The Nelson Gallery Foundation. All reproduction rights reserved. These photographs may not be reproduced in any medium without specific written permission and acknowledgment of ownership by The Nelson-Atkins Museum of Art.
Nelson-Atkins Media Services Photographer / Jason Tracy