In the 1900s Tulsa, Oklahoma's Greenwood District was one of the most affluent African American districts in the United States. Called the "Black Wall Street," bustling Greenwood Avenue was lined with luxury boutiques, restaurants, and theaters. But on May 31, 1921, that would all end. Over the course of a few days, white rioters burned hundreds of businesses and homes in Greenwood in one of the worst incidences of racial violence in American history. The neighborhood was burned to the ground, more than 800 people were injured, and as many as 300 killed.
Yet for years, the Tulsa Race Massacre was not taught in Oklahoma.
"There's been a culture of silence around this event," said Shanedra Nowell, Associate Professor of Secondary Social Studies Education at Oklahoma State University. "It's been part of the curriculum since 2001, but if you talk to the majority of adults here, many haven't learned anything about it."
Now, however, OSU Writing Project teachers are starting to change that. As the riot's centennial approaches, they are partnering with teachers from across the state to develop an immersive and creative way for students to learn this history.
The project begins with a tour of downtown Tulsa. Middle and high school students from across Oklahoma toured the Greenwood district, the OSU-Tulsa campus, and the John Hope Franklin Center for Reconciliation and Reconciliation Park.
More than just the students are learning history. "One of the bus drivers walked around the tour with us," Nowell said. "He was in his 60's, a lifelong Oklahoman and didn't know this history."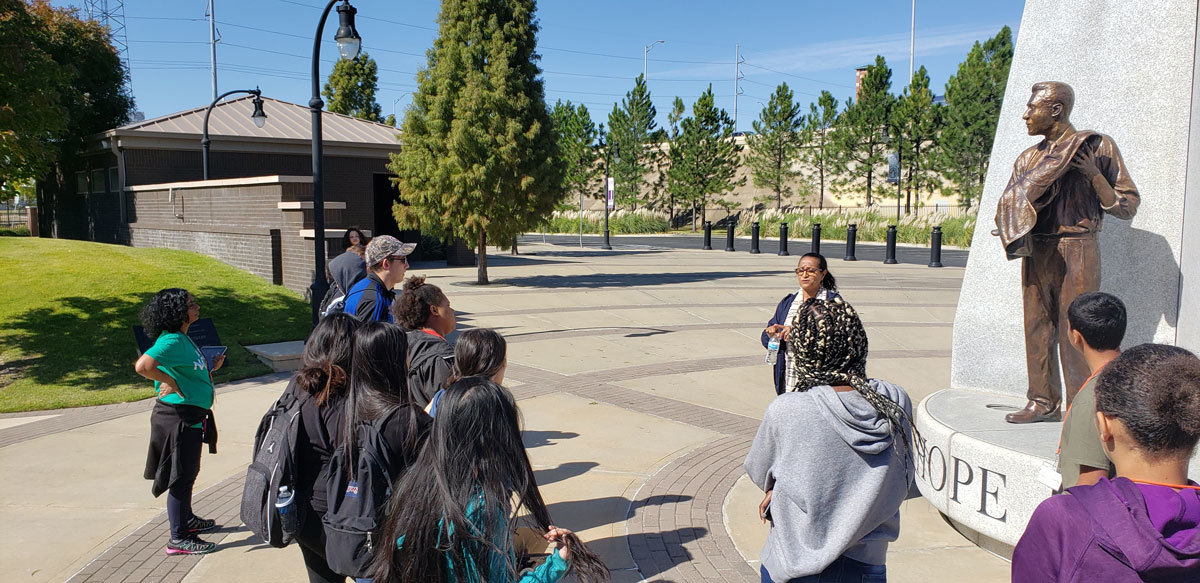 On their return home, the students spent much of this school year working on collaborative inquiry projects about the Race Massacre. "Before the school year, we provided professional development for the teachers on the digital tools the students used to create their inquiry projects," said Kalianne Neumann, Assistant Professor of Educational Technology. For example, some students created digital stories, podcasts, virtual tours, and more to bring this history to life. Some created "LRNG talks" modeled after TED talks where students record speeches intended to teach viewers what they have learned. Brindy Tijerin, a 7th grader at Rogers College Junior High in Claremore, OK, gave a talk on the importance of hard history being taught in classrooms and the lessons that can be learned from engaging with traditionally difficult topics.
Students created podcasts where they debate the causes of the Race Massacre and its impact on Tulsa. "The black community back then was thriving," one student from Luther High School said in a podcast. "I wonder how much further Tulsa would be and Oklahoma as a whole [if this hadn't happened]?"
And using Google Tour Creator, ethnographies, and digital stories they are telling the stories of the effects of the Race Massacre on the Greenwood District and connecting those stories to the effects of racism on individuals, communities, and businesses in other parts of the country and the world. Jessica Jamarillo, an 11th grader from East Central High School in Tulsa, created a Google Expedition presentation that connected the Race Massacre to other examples of discrimination by banks, schools, and the police.
The content will be shared widely in a digital repository so other students can continue to learn about the impact of the Race Massacre on the lives of today's Oklahomans.
There has been tremendous interest in the project. More than 76 teachers asked to join a project with only eight open slots.
Teachers worked in groups and were trained by OSU professors on how to use the different technologies so they could support each other throughout the project.
And until the Covid-19 pandemic hit, student leaders from participating schools were scheduled to host a joint youth symposium in April. Organizers transferred the symposium to online outreach.
Shelbie Witte, the Kim and Chuck Watson Endowed Chair in Education at OSU, said that the project has been an exemplar in how to teach about social justice.
"As schools have moved their focus to standardized tests and packaged curriculum, the National Writing Project still knows what good teachers and good writing instruction looks like and have continued to push for that type of curriculum no matter what," she said.
The project is supported in part by an LRNG Innovators Challenge grant. The grants are part of the partnership between NWP and John Legend's Show Me Campaign to help educators extend time and space for connected learning. The Connected Learning theory posits that learning happens in school, as well as at home, work, and among friends, and is driven by students' own interests and unique life experiences.
"Tulsa is still a very segregated city," Nowell said. "My students never understood why. Now they do. It has left its mark on the community. We are going to have to learn this history to move forward."
By Sarah Jackson
Photos Courtesy of Shanedra Nowell