I love sports and I believe that students are taught to be better human beings through their experiences with organized sport teams. When I was in high school, my basketball and baseball coaches emphasized the importance of community, school, and family. In my professional career as a teacher, I am constantly encouraging the athletes at Bassick High School to take part in community service, pay attention to their studies, and write about all the different experiences that they are afforded.

Last year I was given an opportunity to work with a former sports writer, now a professor at Fairfield University. When asked, "Why sports writing?" I replied, "Sports is directly connected to academic success for many of the English Learners and native-born students whom I serve at Bassick High School." The university professor and I worked together for one week at the Connecticut Writing Project teaching middle-school students to write about the movements, thinking patterns, and emotions that occur in the sport that they enjoy most. They were not just writing traditionally from outside a sport, but instead going inside a sport to deepen their thinking and expression. They used more of their creative energy, while exploring the importance of community, family, and dreams.
During camp the students read The Crossover, a young-adult novel by Kwame Alexander that served as one of our mentor-texts. Students were exposed to, and at times imitated, two-voiced poems, free verse, and 'as in' styles of poetry writing. Our campers also showed interest in writing dialogue and commentary.
"The Connecticut Writing Project is my most trusted framework for best instructional practices; it has helped me build strong relationships with parents, community partners, and students."
In addition to writing with and about sports, our students were being exposed to team-building activities. Students were afforded the opportunity to demonstrate their understanding of respect, while teachers experienced building group character with their students. Students were given mini-tasks that they had to complete with people whom they normally would not sit or speak with during camp hours. They were asked to navigate problems and questions, though they knew little about their partners' academic, economic, and social backgrounds. The team tasks were challenging but I witnessed students using their passions for writing and sports to support positive team-building interactions.
It was an honor to see my belief in community, family, and school come to fruition with middle-school-aged students during one week at the Connecticut Writing Project. The campers showed that playing organized sports and writing about them simultaneously created a positive effect on young students. As a result of this experience, I will continue to advocate for the implementation of sports literacy in high school English curricula across the country that incorporates an element of athletic movement to support team-building activities.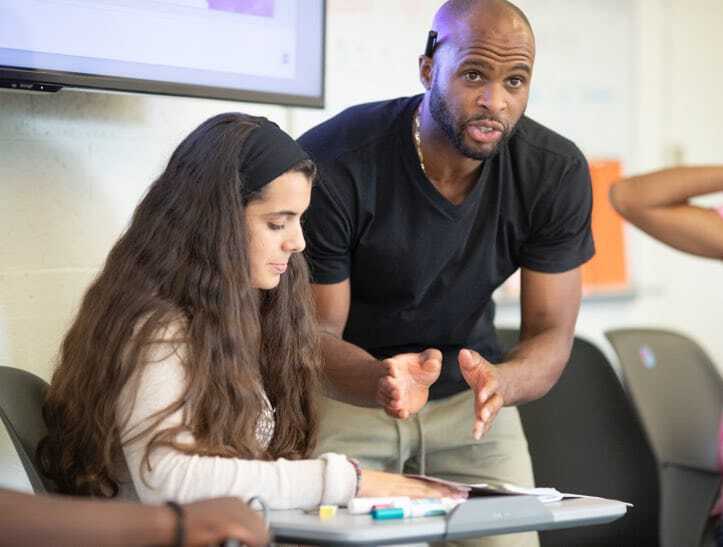 My Involvement with the Connecticut Writing Project
I became involved with the Connecticut Writing Project shortly after building a relationship with Dr. Bryan Ripley Crandall. While completing my graduate studies, I took a required English course taught by Dr. Crandall. The course encouraged prospective teachers to think more creatively about teaching writing. The experience was instrumental in exposing me to different ways that teachers and students could interact with poetry in their classrooms. Dr. Crandall and I would continue to cross paths, once I started my career as an ESL teacher at Bassick High School. He assisted several English teachers there with curriculum development, while he always demonstrated a special interest in refugee and immigrant youth. At the time, the English learners at Bassick High School were my main priority; Dr. Crandall assured me that the work being done at Bassick was part of a larger paradigm, a better outlook for public education.
With Dr. Crandall as a friend and mentor, I have now been involved with the Connecticut Writing Project for four consecutive years. My attraction to it stems from its focus on community, respect for a diversity of perspectives, and human rights advocacy. Dr. Crandall encourages me each year to speak at the National Writing Project Annual Meeting at the National Council of Teachers of English (NCTE) annual conference, and to participate in the Sport Literacy and UBUNTU Academy summer camps. During these camps, I am afforded the opportunity to read and write with students from diverse socioeconomic backgrounds. In turn, the students are encouraged to participate in writing assignments that are grounded in team-building and creative thought. The Annual Meeting gives me the opportunity to showcase the impact that my practices have had on immigrant and refugee youth experience with literacy. The Connecticut Writing Project is my most trusted framework for best instructional practices; it has helped me build strong relationships with parents, community partners, and students.