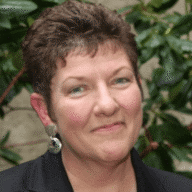 Elyse Eidman-Aadahl
Elyse Eidman-Aadahl is Executive Director of the National Writing Project (NWP), where she draws upon 25 years of experience designing and leading national programs, partnerships, and action-learning efforts for NWP and its partner organizations. Prior to that, she directed the Maryland Writing Project at Towson University.
A recipient of the Hollis Caswell Award for Curriculum Studies, Eidman-Aadahl holds a Ph.D. in curriculum theory from the University of Maryland, College Park . Her scholarship includes studies of literacy and learning in the context of our new digital, networked ecology. A main focus of Eidman-Aadahl's research is how educators from diverse backgrounds research and reason together about this social transformation—as well as literacy, equity, and agency—for themselves and their youth. She is a broadly published author and presenter, well-known for co-authoring Because Digital Writing Matters (Jossey-Bass, 2010) and Writing for a Change: Boosting Literacy and Learning through Social Action (Jossey-Bass, 2008).
Prior to becoming Executive Director, Eidman-Aadahl directed National Programs and Site Development for the NWP, where she developed many of NWP's signature programs and partnerships. Her recent work engages educators in schools, libraries, and museums as they rethink their teaching and learning environments with a view toward digital composition and production, connected learning , equity, and civic engagement. In that regard, Eidman-Aadahl is the founder of NWP's Digital Is project and community, supported by the John D. and Catherine T. MacArthur Foundation's Digital Media and Learning Initiative (DML), and is a member of the DML's Youth and Participatory Politics research network. She is a founding member of the Connected Learning Alliance , and co-established the YOUmedia Learning Labs network , the Make to Learn Initiative , and Educating for Democracy in a Digital Age.
Formerly a high school English and journalism teacher, university professor, and evaluation consultant, Eidman-Aadahl has conducted action research and evaluation programs for organizations as diverse as the YWCA, the Mongolian Open Society Institute, National Council of Returned Peace Corps Volunteers, NIOST, Understanding Science, and numerous organizations focused on youth development and civic learning as they work to create and assess powerful learning contexts for young people and the adults who work with them. Current partnerships include leading projects that engage partners in science and maker/tinkering communities to theorize the relationship of literacy to efforts in STEM/STEAM education.