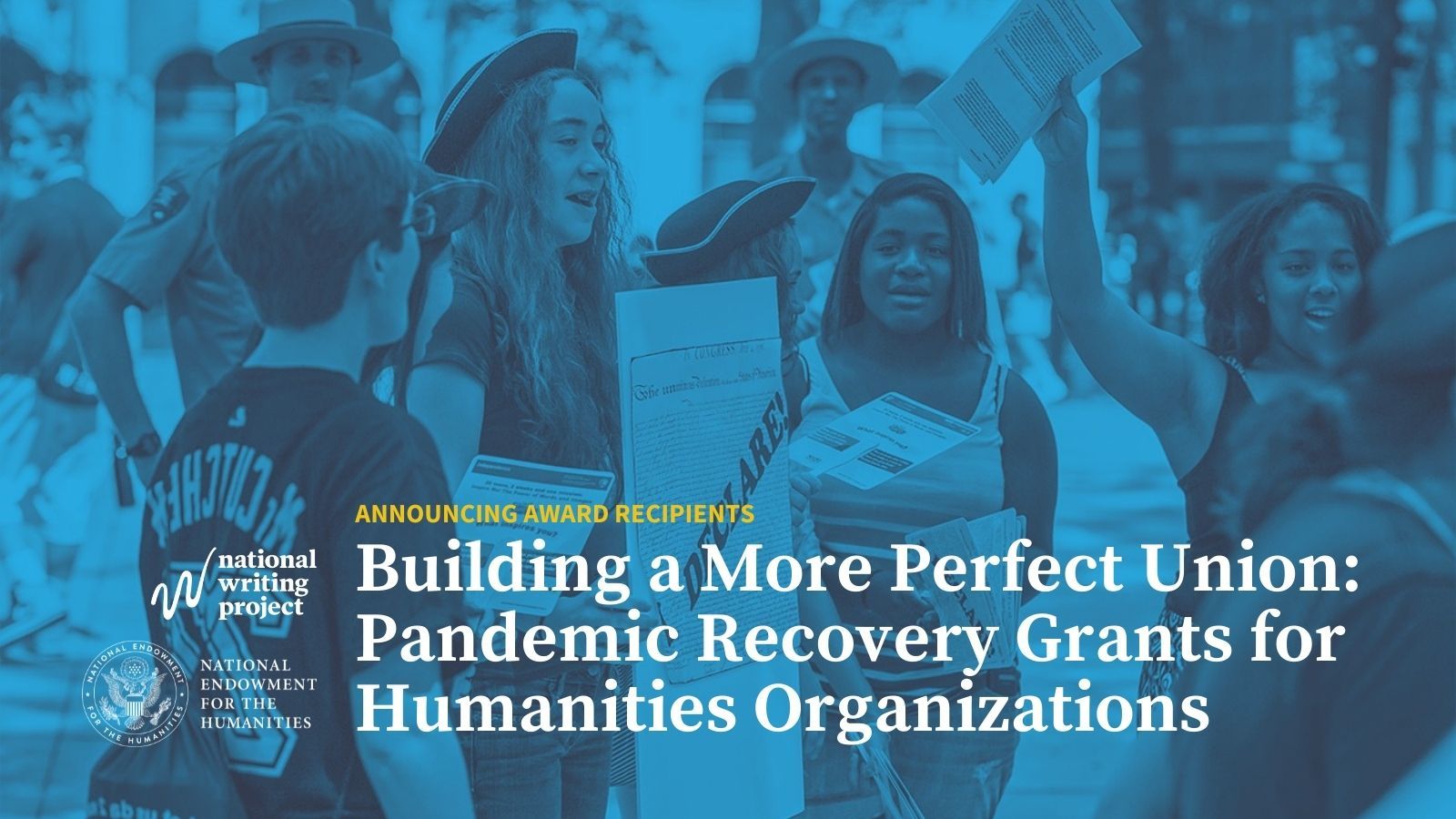 The National Writing Project's Building a More Perfect Union program announces the awarding of 38 grants to humanities organizations across the United States to assist in recovering from interruptions to operations due to the coronavirus pandemic. As part of the American Rescue Plan: Humanities Grantmaking for Organizations at the National Endowment for the Humanities, Building a More Perfect Union funds organizations to develop programming in anticipation of the upcoming 250th anniversary of the founding of the United States.

"Each project contributes to a shared national conversation in important ways," said Elyse Eidman-Aadahl, Executive Director of the National Writing Project. "Building a More Perfect Union recognizes the unique role that local, regional, and cross-regional humanities organizations play in understanding and making visible fuller stories of our national experience."

The awarded projects, selected through a competitive, peer-reviewed application process, are located at local, regional, or cross-regional organizations such as nonprofits, museums, libraries and archives, historic sites, and public-facing humanities centers at colleges and universities across the country. This funding will help such entities restore programming post-pandemic and to engage or deepen collaborations with stakeholders and communities that will expand their reach.
Awardees plan to "build a more perfect union" through expanding access and raising the visibility of lesser known stories and histories in regions and communities, engaging communities through participatory public humanities events and opportunities, and developing institutes and curriculum with teachers and students to support K12 classrooms.

Grant projects and awardees, organized by state and city, are summarized below; a list of awardees with project abstracts is also available for download.



Alabama
Power of Pen and Story: Teaching for Equity to Empower Our Youth
Birmingham Civil Rights Institute and the Red Mountain Writing Project
Birmingham, AL
Arizona
"We the People:" Building Salas de Libros to Explore Migrant Waves in Our Nation's History
University of Arizona's Worlds of Words: Center of Global Literatures and Literacies and the Southern Arizona Writing Project
Tucson, AZ
California
Telling Complicated Stories & Building Robust Civics Education Programs in Public School Classrooms
Redwood Writing Project at Humboldt State University
Arcata, CA

Bringing Local History to Life: Actualizing a More Perfect Union Through Oral Histories
Bay Area Writing Project at University of California Berkeley
Berkeley, CA

Rebuilding The Humanities at the Quartz Valley Indian Reservation
Northern California Writing Project at CSU, Chico and the Quartz Valley Indian Reservation
Chico, CA

Buchanan Mall Community History Project
San Francisco African American Historical and Cultural Society
San Francisco, CA

Japanese American Redress: Reckoning and Recovery
National Japanese American Historical Society
San Francisco, CA

An Educator's Guide to Orange County Diversity: Making Visible Underrepresented Communities and Their Histories in Orange County
Heritage Museum of Orange County
Santa Ana, CA
Georgia
Combining Voices
Augusta University Writing Project and the Morris Museum of Art
Augusta, GA
Idaho
Fostering Conversations: Document Based Inquiries into the Contact Zones of American (and Idaho) History
Boise State Writing Project
Boise, ID
Illinois
Bronzeville—A Citizens' View of the History and Culture of an Illustrious African-American Neighborhood
Illinois Writing Project and the Jacob H. Carruthers Center for Inner City Studies at the Northeastern Illinois University
Chicago, IL

History Lessons: Everyday Objects from the History of Public Housing
National Public Housing Museum
Chicago, IL

Teacher Writing for Civic Engagement: A Chicago Area Writing Project Initiative
Chicago Area Writing Project at the University of Illinois
Chicago, IL
Kentucky
Root Deep, Grow Tall: Celebrating heritage and changing lives one story at a time
Hindman Settlement School and the The Morehead Writing Project
Hindman, KY

Connecting our Heartlands: Towards an Inclusive American Creed
Center for Rural Strategies, Citizen University, and Citizen Film
Whitesburg, KY
Louisiana
The Good Troublemakers Book Project
826 New Orleans
New Orleans, LA
Massachusetts
Writing Boston's Future
Museum of African American History and the Boston Writing Project
Boston, MA

Sailing to Freedom: Building a More Perfect Union by Escaping and Ending Slavery
New Bedford Historical Society
New Bedford, MA
Maryland
Restorying We The People: Connecting Maryland Classrooms to the Reginald F. Lewis Museum of Maryland African American History and Culture
University of Maryland Writing Project and the Reginald F. Lewis Museum of Maryland African American History and Culture
College Park, MD
Michigan
Welcome Back to CADL
Red Cedar Writing Project at Michigan State University and Capital Area District Libraries
East Lansing, MI

Towards a More Perfect Union: Understanding a More Complete Picture of Our Nation's Past, Present, and Future
Oakland Writing Project at the University of Michigan-Flint and the The Stockton House Museum
Flint, MI

Cultivating Engaged Citizens Through Family Literacy, Civic Reasoning, Critical Thinking, and Empathy
Top-of-the-Mitt Writing Project at North Central Michigan College
Petoskey, MI
Minnesota
Reconsidering Minnesota History through Dakota Narratives
East Side Freedom Library, Speaking Out Collective, and the Minnesota Writing Project
St. Paul, MN
Missouri
Curating Black History in KC
Greater Kansas City Writing Project at the University of Central Missouri, the Black Archives of Mid-America, and Clio
Kansas City, MO
Nebraska
There's No Such Thing as Free Land: Understanding the Homestead Acts through Multiple Perspectives
Friends of Homestead National Historical Park and the Nebraska Writing Project
Beatrice, NE
New Jersey
Rethinking the Narrative: Historical and Artifactual Literacies and Museum Curation
Drew Writing Project at Drew University and the Museum of Early Trades & Craft
Madison, NJ
New York
You Are Here: Making Connections between Family History and US History
Long Island Writing Project at Nassau Community College and the Holocaust Museum and Tolerance Center
Garden City, NY

"A More Perfect Union": Exploring the Many Musics of America's People
American Musicological Society Inc.
New York, NY

A More Perfect Bronx History
New York City Writing Project at Lehman College and the Van Cortlandt Park Alliance
New York, NY.

The Eagle's Nesters: Beyond the Myths
Rosendale Theatre Collective Inc.
Rosendale, NY
Ohio
Round Table Storytelling: Toward Hearing and Empowering All the Voices of the Past and Present
Dayton Society of Natural History and the Ohio Writing Project
Dayton, OH
Oklahoma

Engaging Humanities Through Art on The Chisholm Trail
Oklahoma Writing Project at the University of Oklahoma and the Chisholm Trail Heritage Center
Norman, OK

A Century of Questions: Student-Driven Inquiry into the Tulsa Race Massacre
Oklahoma State University Writing Project
Stillwater, OK
Pennsylvania
"They Carried Us": Hidden Histories of African American Women in Philadelphia, Building a More Perfect Union from the 1700s to the present
Philadelphia Writing Project at the University of Pennsylvania and at the African American Museum in Philadelphia
Philadelphia, PA
Rhode Island
Activism in the Archives: Exploring Rhode Island Stories of Solidarity
What Cheer Writers Club
Providence, RI
Texas
Expanding the Resources of the Texas State Museum of Asian Cultures
Coastal Bend Writing Project at Texas A&M University—Corpus Christi and the Texas State Museum of Asian Cultures
Corpus Christi, TX
Virginia
(Re)Telling Our Stories: Central Appalachia's Cultural Contributions in Oral History and Artifact
Appalachian Writing Project at the University of Virginia, the Southwest Virginia Museum, and the African American Appalachian Cultural Museum
Wise, VA
Wisconsin
ALL Stories: American Storytelling to Build a More Perfect Union
Arts + Literature Laboratory, Inc and the Greater Madison Writing Project
Madison, WI

---
To read more about the American Rescue Plan: Humanities Grantmaking for Organizations and learn more about other organizations that are offering these same grants, please visit https://www.neh.gov/sharp/grantmaking and follow #NEHRecovery and #SHARP.