By Erin Wilkey Oh
When local educators and cultural institutions come together to collaborate, it strengthens the community in transformative ways. A number of the National Writing Project's Building a More Perfect Union grants funded partnerships between university-based Writing Project sites and local cultural institutions.
For three of these partnerships, the experiences shifted participants' thinking about their work, and forged lasting relationships between the institutions and local educators. As a result, students from marginalized groups made deep, personal connections to local histories they might have previously thought excluded them; classroom teachers found new inspiration and resources for student learning experiences; and museum and community-based educators reimagined their work from new perspectives.
Rethinking the Narrative
Housed in a majestic and historic stone building in the center of Madison, New Jersey, the Museum of Early Trades and Crafts showcases a collection of nearly 9,000 objects made or used by the locals of the area in the 18th and 19th centuries. From shoe-making tools to farming implements to quilts—the museum's artifacts give visitors a window into the daily work of centuries past.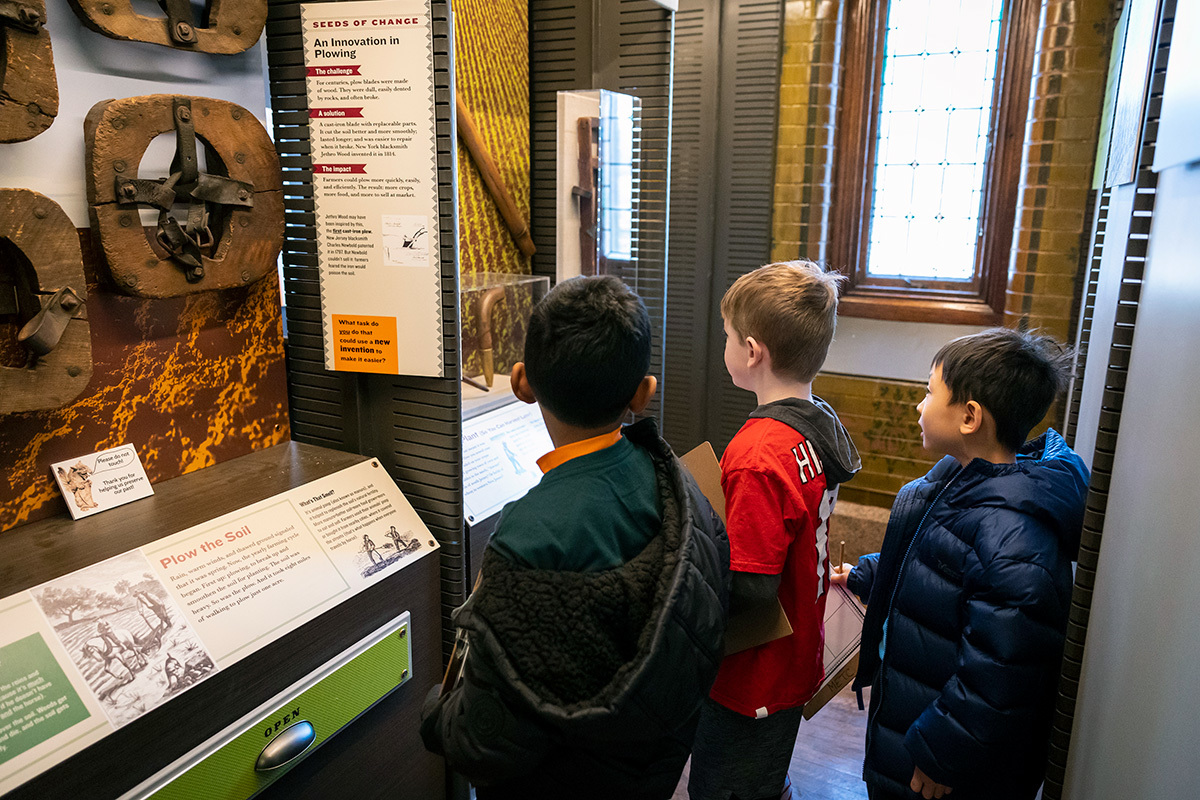 A central challenge for museum curators is helping visitors make connections between museum artifacts and their own lives. What meaning does this historic artifact have to a modern-day visitor? How can museum exhibits make space for a more inclusive and interactive experience with artifacts? These were some of the questions the Drew Writing Project and Digital Literacies Collaborative (DWP/DLC) and the Museum of Early Trades and Crafts wanted to explore with their Building a More Perfect Union project.
The collaboration kicked off with the DWP/DLC's Advanced Summer Institute, during which teachers spent a week at the museum reflecting and writing. Participating teacher Heather Moscat Nash explains her takeaways from the week: "I realized that the quintessence of the 'museum experience' was not about viewing carefully curated collections of objects per another's decree. It was . . . to bring my experiences to the objects . . . to recognize and practice my own skills in literacy, reading the museum and weaving in my own life experiences."
After the Summer Institute, Moscat Nash and other educators translated their takeaways into a curriculum for high school English language learners. Then they brought a group of students to the museum and invited them to narrate their interactions with the artifacts, sharing their connections through writing, drawing, or storytelling. One student who emigrated from Mexico saw a shoulder yoke and told the group how he used to use one to carry water for his family each day. Instead of passively viewing the artifact and moving on, he brought his own experiences to the object and shared those stories for others to learn from.
"By working together toward building a more perfect union, the DWP/DLC was able to bring expertise in literacy to offer the museum new ways of presenting objects and inviting visitors to interact with them," said DWP/DLC director Kristen Turner. "At the same time, the museum curators, educators, and staff members helped DWP/DLC teachers consider how to engage students with objects and museums in a way that empowers them, lifting their voices."
Root Deep, Grow Tall
On the banks of Troublesome Creek in Hindman, Kentucky, stands the first rural settlement school established in the U.S. For over 120 years, the Hindman Settlement School has provided traditional arts education, healthcare, and social services to the people of southeastern Kentucky and Central Appalachia.
For their Building a More Perfect Union project, Morehead Writing Project (WP) and the Hindman Settlement School joined forces to create a project-based learning (PBL) humanities program for rural eastern Kentucky communities. As Morehead WP director Deanna Mascle explained, many eastern Kentucky school districts are deeply underfunded and have little humanities programming. "We hope to help Hindman provide professional development in those schools to show teachers how to leverage PBL as a way to incorporate humanities into what they're already teaching."
The Hindman Settlement School hosted Morehead WP teachers for a week-long retreat to work on the materials together and collaborate. Hindman staff welcomed the teachers into their space, providing food, lodging, and inspiration. Mascle described the experience as one of connection and learning, "[They were] sitting in front porch rockers telling stories, taking us to the community garden, showing us how dulcimers were made." The group reflected on themes of identity, community, heritage, and citizenship as they developed their project-based learning (PBL) units.
After the retreat, Morehead WP educators implemented their PBL units in the classroom, and students across eight eastern Kentucky communities developed projects related to identity, community, and the arts. At Rowan County High School in Morehead, students recorded personal essays at the local Public Radio station. Students at Fairview High School in Ashland held a community showcase to share their work. And at Bath County High School in Owingsville, students leveraged YouTube and a local library story hour to connect with the greater community.
Mascle sees the collaboration between Morehead WP and the Hindman Settlement School as something that will live well beyond this project. "This was just the opening chapter to what will be a long relationship."
(Re)Telling Appalachia's Story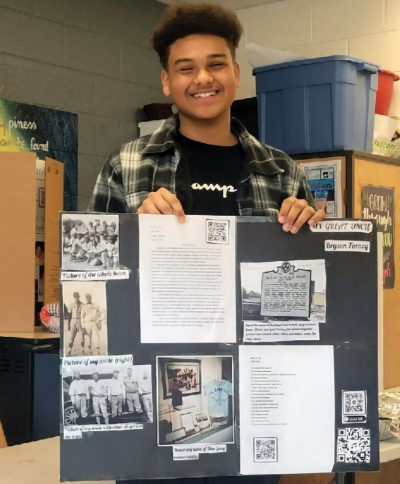 The Appalachian African American Cultural Center (AAACC) in Pennington Gap, Virginia, resides in a historic one-room schoolhouse. Originally built as a primary school for African American children during the time of segregation, the building is now home to a vast collection of artifacts documenting the history, culture, and heritage of African Americans in southwest Virginia and greater Appalachia.
The Appalachian Writing Project's Building a More Perfect Union grant project helped educators better understand the experiences and contributions of Appalachian African Americans through a partnership with the AAACC. Ron Carson, founder of the center, helped secure funding for the Appalachian Writing Project teachers to travel to the AAACC, the Smithsonian National Museum of African-American History and Culture, the United States Holocaust Memorial Museum, and the Museum of the Cherokee Indian.
Teacher participant Stephanie Cassell shared, "Participating in the (Re)Telling Appalachia grant project was personally and professionally fulfilling for me as an educator. I feel that I will carry these experiences with me for a long time and share them with my students in many ways."
Based on these professional development experiences, the participating educators created opportunities for their students to "retell" the story of Appalachia by sharing their families' stories and challenging a narrative that often stereotypes Appalachians as white and poor. According to Appalachian Writing Project director Amy Clark, student projects included a range of multimedia products—podcasts, interviews, research reports, videos, photography, creative writing, and more. In some schools, students hosted community events during which they shared what they learned with attendees.
Moving forward, the Appalachian Writing Project secured additional funding to run an Advanced (Re)Telling Institute focused on turning the project into demonstrations for professional development, which they will disseminate in the fall of 2023.
The partnership between the Appalachian Writing Project and the AAACC highlights how collaborations between educators, students, and community-based cultural institutions can enrich learning and strengthen communities. Clark shared, "Teachers and students were unanimous in how much they learned about their own region through this program."

---

The Building A More Perfect Union program was made possible by the American Rescue Plan: Humanities Grantmaking for Organizations at the National Endowment for the Humanities (NEH).